From my pad to yours, over the airways.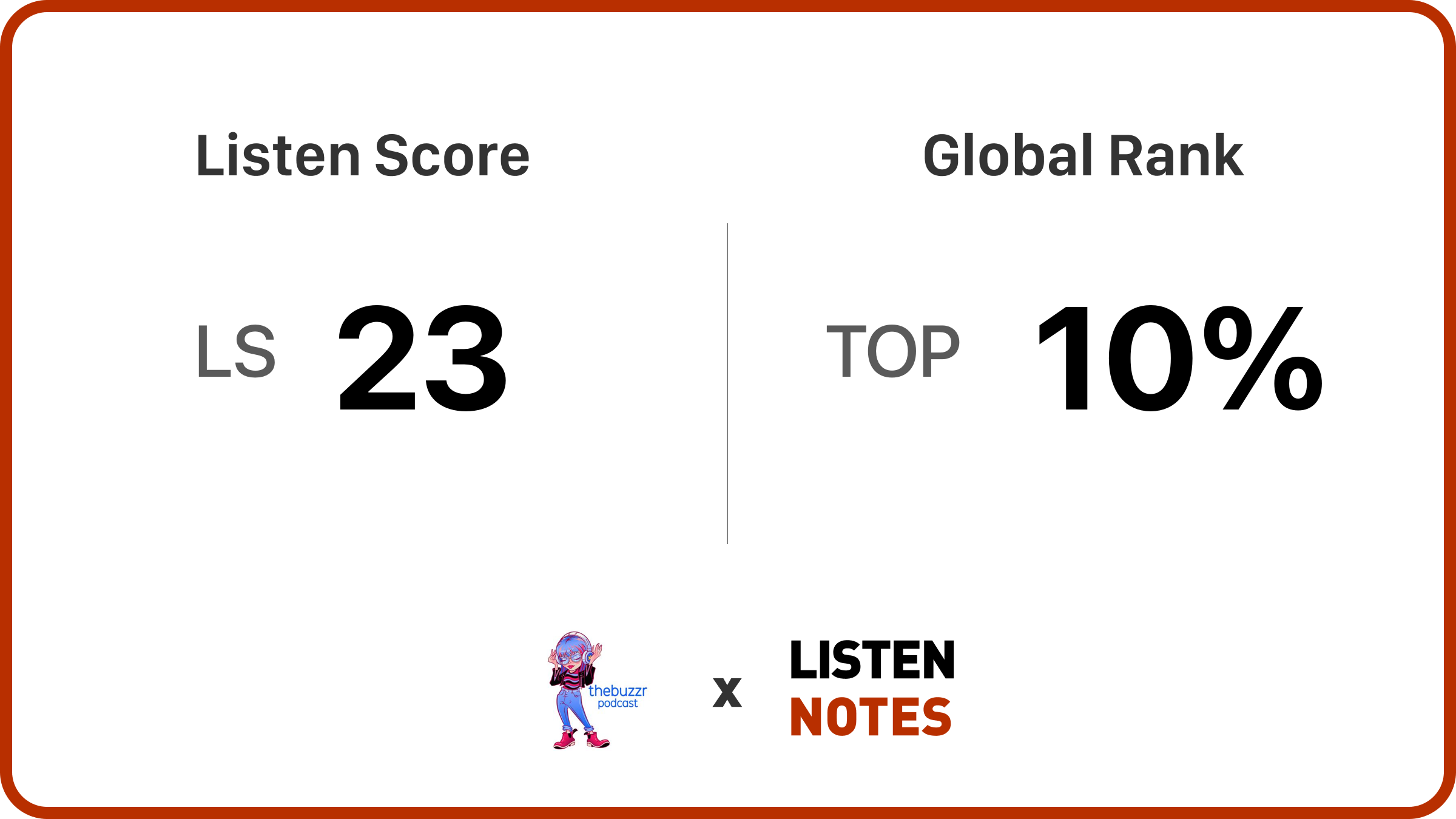 This podcast is one of the top 10% most popular shows out of 2,625,567 podcasts globally, ranked by Listen Score (the estimated popularity score).
Worldwide independent music & entertainment coverage | thebuzzr podcast network now broadcasts to over 21 countries, 3 times a week
We discover the best music at the local pub and festivals, yes? This podcast brings local music scenes, emerging artists & their music from their local music scene to your living room, bachelor pad, commute from work or a couch chill out at end of the day times.
Featured are one-on-one interviews with musicians, content creators and personalities contributing great content to the world.
We are international. We believe that music has no borders.
thebuzzr pod covers artists internationally, all genres. We meet dynamic personalities putting out splendid music. Here albums and EPs are showcased, often for the first time. Talking with artists & bands, we hear stories from the road and in the studio.
Sometimes our guests get mysterious and we offer up unusual experiences, paranormal occurrences & relationship couch therapy.
New episodes every Monday & Tuesday!
Broadcast for thebuzzr pod is every Monday & Tuesday at 10 p.m. EST/EDT.
Our second show is thebuzzr after hours. thebuzzr after hours is open format. Usually we run buzzPLAY, a playlist night of recent releases. Sometimes we talk about offbeat topics. Sometimes politically charged chats. Mostly Music. Nothing taboo! Just show up & be entertained! It is a great show!
thebuzzr after hours broadcasts Wednesdays at 12 midnight EST/EDT.
You can stream both podcasts on the FiredUp Network. On the FiredUp Network, thebuzzr podcast broadcasts Sundays at 2 p.m. thebuzzr after hours airs on Wednesdays at 2 p.m.
The FiredUp Network is a premier sports platform available on 158 podcast feeds with over 1,000,000 listeners. It is a sports & entertainment experience, covering all major sports. Download the app for iOS on Apple on on Google Play.
Cheers! 
Shay
Buzz Roll Media is a media company and is the parent company of thebuzzr podcast network & What's Our Buzz. We promote independent music, all genres.
Buzz Roll Media provides written content for blogs, social media, and websites. The company sponsors thebuzzr podcasts and thebuzzr indie blog. They are free promotional platforms for independent artists & bands.
thebuzzr indie is a written blog covering independent music. All genres, global  coverage of indie artists & bands. The blog is #15 in Feedspot's Top 30 Music Marketing Blogs, Websites & Influencers in 2021. 
Sponsored & Produced by Buzz Roll Media™ Post-production: Buzz Roll Media. Show music for thebuzzr podcast and thebuzzr after hours podcast by Kevin Estrella, Pyramids on Mars™. Listen/Purchase Kevin's music on Bandcamp.
thebuzzr podcast features "Nacht Waffen" and "F-22 Raptor" from the album Edge Of The Black. thebuzzr after hours features "Summer By The Ocean" from the album Pyramids on Mars™. 
**Season one episodes 18 to 66 thebuzzr podcast & episodes 1 to 24 thebuzzr after hours podcast postproduction by Rocha Neto, Resonant Sound Labs. 
thebuzzr pod

We discover the best music at the local pub and festivals, yes? This podcast brings local music scenes, emerging artists & their music from their local music scene to your living room, bachelor pad, commute from work or a couch chill out at the end of the day times.

Featured are one-on-one interviews with musicians, content creators and personalities contributing great content to the world.

We are international. We believe that music has no borders.

thebuzzr podcast covers artists internationally, all genres. Meet dynamic personalities putting out great music. Here albums and EPs are showcased, often for the first time. We hear the stories on the road and in the studio.

Sometimes our guests get mysterious and we offer up unusual experiences, paranormal occurrences & relationship couch therapy.

New episodes every Monday & Tuesday!

Broadcast for thebuzzr podcast is every Monday & Tuesday at 10 p.m. EST/EDT.

View Show

thebuzzr after hours

thebuzzr after hours is open format. Usually we air buzzPLAY, a playlist night of recent releases. Sometimes we talk about offbeat topics. Sometimes politically charged chats. Mostly, music. Nothing is taboo!

This is a show with unique and talented industry guests & topics which may or may not fit into thebuzzr podcast programming. This is a free promotional podcast for all artists & industry guests.

Just show up! Life is better with surprises.

thebuzzr after hours broadcasts Wednesdays at 12 midnight EST/EDT.

View Show
if we tweet it, it's indie
if we post it, it's indie